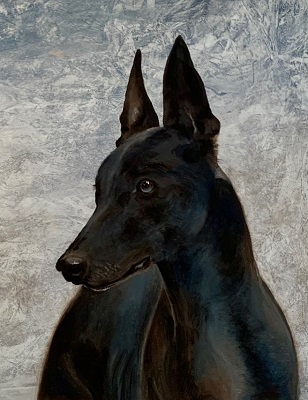 HOW TO BECOME AN ANGEL FOR THE GREYHOUNDS

1) Provide who this is from.
2) Select as many of the Greyhounds that you wish to be an Angel for.
3) Enter the name of who you are making this donation in Memory of. (Optional)
4) Enter the name of who you are making this donation in Honor of. (Optional)
5) Enter the quantity you wish. Each selection is $25 and will be multiplied by the quantity you have entered.
"Origins"
Egypt is considered to be the place of origin for the modern-day sighthound such as the Greyhound. The first Greyhound type canine is evidenced to be in existence about 8000 years ago. Greyhounds are considered to be one of the oldest purebred dogs. From their ancestors to modern day Greyhound pets, their magnetic beauty and calm temperament remains. Our own Greyhound pets can sometimes conjure images of the Egyptian Anubis. We must preserve the Greyhound breed and continue to enjoy them as our treasured companions. Please help Greyhounds Unlimited in their effort to preserve this wonderful breed and find loving homes through adoption. Please consider fostering, donating, or adopting.
ABOUT THE PAINTING

The painting, "Origins" is a 20" x 24" oil on deep stretched canvas with gallery finished edges by Denise Saleh. This piece may be hung as is or framed. Much more impressive in person.
WHAT'S IN IT FOR ME?

Beyond the warmth and peace that you could experience during this wonderful season, beyond getting your name posted on the website as well as "in Honor of" or "in Memory of" another, there is always that little thing known as the tax write-off ... hey, it is true, and the deadline is almost here.
HOW TO MAKE YOUR DONATION

Select the Greyhound you wish to Be An Angel for or if unsure you can select "All", change the quantity to increase the amount of your donation (this amount multiplied by $25 equals the amount of your donation), provide the name you wish to appear on the website and if you wish you may select to make your donation in memory of or in honor of someone by simply placing their name as you wish to have it appear on the website. Finally press the "ADD TO CART" button. If you would like to sponsor another Greyhound, simply click "Continue Shopping". Continue this process until you are through and then follow the system prompts to check out.
We only ship within the Continental United States

* Please note: When checking out use and using a credit card use the PayPal option in Step 3 and you will then be able to use a credit card or PayPal.
Be An Angel
Product Code: Be An Angel
Availability: In Stock