HOW TO BECOME AN ANGEL FOR THE GREYHOUNDS

1) Provide who this is from.
2) Select as many of the Greyhounds that you wish to be an Angel for.
3) Enter the name of who you are making this donation in Memory of. (Optional)
4) Enter the name of who you are making this donation in Honor of. (Optional)
5) Enter the quantity you wish. Each selection is $25 and will be multiplied by the quantity you have entered.
"Shield"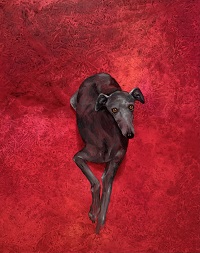 When potential adopters consider bringing a Greyhound into their lives, sometimes they say, "I'd like a beautiful brindle" or "Fawn is my favorite color". The funny thing is, when you get to a Meet n Greet to meet a potential dog to adopt, usually, all that color consideration goes right out the window because every one of them is beautiful. When you look deep into a Greyhound's eyes and he or she presses their soft elegant head against your thigh, that is all it takes. The bond is started. Many of us have experienced this phenomenon. A person comes to meet Greyhounds Unlimited volunteers to discuss getting a large black male dog and walks away with a tiny brindle female. Call it magic, kismet or love at first sight. Love knows no color, size or style. The most important thing is that you walk away with a companion for life.

ABOUT THE PAINTING
The painting, "Shield" is a 30" x 24" oil on canvas with gallery finished edges by Denise Saleh. This piece may be hung with or without frame. Copper and silver metallic undertones with a dark distressed glaze and a vertical panel suggesting several fur colors seen in Greyhounds.

WHAT'S IN IT FOR ME?

Beyond the warmth and peace that you could experience during this wonderful season, beyond getting your name posted on the website as well as "in Honor of" or "in Memory of" another, there is always that little thing known as the tax write-off ... hey, it is true, and the deadline is almost here.
HOW TO MAKE YOUR DONATION

Select the Greyhound you wish to Be An Angel for or if unsure you can select "All", change the quantity to increase the amount of your donation (this amount multiplied by $25 equals the amount of your donation), provide the name you wish to appear on the website and if you wish you may select to make your donation in memory of or in honor of someone by simply placing their name as you wish to have it appear on the website. Finally press the "ADD TO CART" button. If you would like to sponsor another Greyhound, simply click "Continue Shopping". Continue this process until you are through and then follow the system prompts to check out.
*** ONLINE SALES end at 10:00 PM Central on Tuesday, December 31, 2019 ***
The drawing will be held on January 9, 2020. Due to the Coronavirus the location has not been selected. You do not have to be present to win.
We only ship within the Continental United States
* Please note: When checking out use and using a credit card use the PayPal option in Step 3 and you will then be able to use a credit card or PayPal.

Be An Angel
Product Code: Be An Angel
Availability: In Stock